(Disclaimer: This post contains affiliate links.)
I love these Starkist Tuna pouches. If you have the right coupons, along with the right deal, you could snag a couple for just the change in your pocket.
When I opened up my personal e-mail account this morning, I received an e-mail from Starkist that not only had a promoting sweepstakes in it, but it also included a Save $1.00 on any TWO (2) StarKist® Tuna Pouch Products printable coupon (any flavor). I couldn't wait to print that one off. There was also a $0.75 Starkist Tuna (2 pouches) cash back offer on Ibotta, which brought my savings up to $1.75! Be sure to snag the deals yourself with the links above!!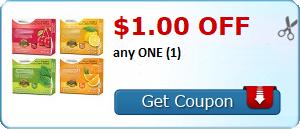 At my local Walmart, they have Starkist Tuna pouches on sale for $1.00 each. I purchased two for $2.00 total. When paired up with the printable coupon and the Ibotta cash back rebate, I snagged them for only $0.25, or $0.12 each!!
This is the importance of e-mail subscribing to your favorite products. If you have checked out my "How-To Guide to Saving Money" article, it states this:
"New E-mail Address
Do you love samples to try out before you buy? Companies are ALWAYS giving away freebies either on their website or on their social media networks and sending them right to your mailbox. They normally have one requirement, though….you must sign up for their newsletters….which, in turn, overwhelms and spams your e-mail. Don't use your personal e-mail to sign up for them. Instead, create a NEW e-mail address, specifically for your sign-ups. That way, all of them are in one place."
So snag a new e-mail address, specifically for subscribing to newsletters and promotions, so that you won't miss ANY awesome deals, like this Starkist Tuna one that I have shown you. It's important when it comes to saving money!
Starkist Hickory Smoked Tuna Salad Sandwiches with Pillsbury Grand Biscuits Recipe
I snagged two Starkist Hickory Smoked Tuna Creations and decided to make a simple tuna salad, combining it with Miracle Whip, mustard, and dill relish. Pillsbury Grands Buttermilk Biscuits were sitting in my fridge just waiting to be used, so I popped them in my waffle maker to create a fun sandwich for my family. Once those were finished, I added a slice of cheddar cheese, lettuce, tomato, and the Starkist Tuna salad I made. It was quick, creative, and super delicious! My kids gobbled it up rather quickly.